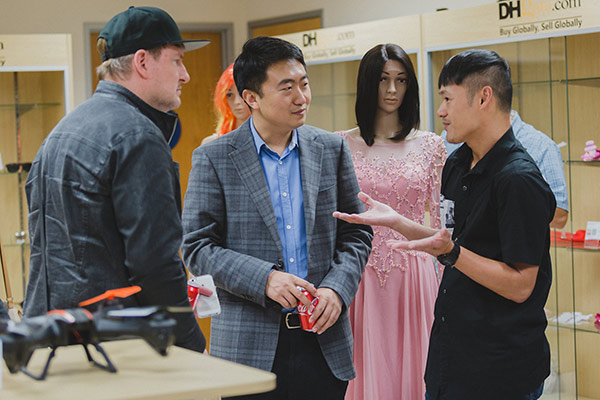 DHgate.com integrates B2B and B2C models to link overseas buyers and SMEs, home-based businesses
If Alibaba proved to be a digital bridge that connected Chinese manufacturers to corporate clients or wholesale merchants the world over, DHgate.com has gone a step further and is delivering both business and individual customers across the world-14 million of them, no less-to 1.7 million Chinese sellers.
Stated differently, the online marketplace has successfully integrated the business-to-business and business-to-consumer models for cross-border e-commerce.
Not just small firms, even individual sellers, like homemakers with spare time and entrepreneurial instincts, are launching home-based businesses and using DHgate.com to access customers abroad.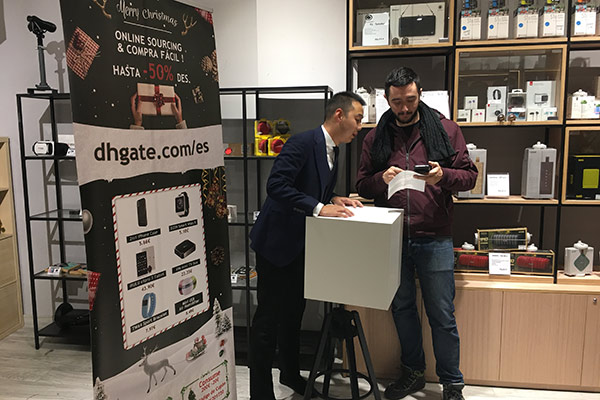 "Using DHgate.com, home-based business owners are able to find a good work-life balance," said Diane Wang, the platform's founder and CEO.
DHgate has made fresh inroads into overseas markets by setting up Digital Trade Centers or DTCs in Hungary, Australia, Spain, the United States, Turkey, Russia, Peru and the United Arab Emirates.
These DTCs enable Chinese SMEs and individual entrepreneurs in terms of cross-border, market-specific business operations, payments, warehousing, logistics, financing, taxes and tariffs.
With DHgate around, small-time Chinese businesses can focus fully on their products, quality, R&D. They need not get bogged down with other concerns related to exports, business development, marketing, so on, all of which are handled by DHgate for a commission (0.5 percent on orders worth $1,000 or more).
Put simply, sellers make products, hand them over to DHgate, which does the rest.
"I'm amazed at how DHgate.com is empowering Chinese SMEs. Its overseas centers offer quicker and more convenient services, which helps both Chinese SMEs and buyers abroad," said Zhao Yue, an analyst at Beijing-based market research firm Analysys.
From across the world, buyers on DHgate can source China-made products ranging from smartphones and home appliances to clothes, shoes and accessories. To get overseas buyers to use the platform, the company relies on the pull of its website, mobile app and physical stores overseas.
Chinese sellers and overseas buyers on DHgate have been increasing steadily. By the time this year draws to a close, over thousands of small and medium-sized enterprises or SMEs will have accessed global markets for the first time through DHgate. (DH stands for Dun Huang, a city in Gansu province, Northwest China, that was part of the ancient Silk Road.)
For a firm founded in 2004, DHgate has grown remarkably well. It has been quick to spot and exploit opportunities presented by the Belt and Road Initiative. It now generates 11.6 million monthly page-views on average, with the US accounting for almost 29 percent, higher than 25 percent from China, according to market data firm Alexa.cn.
For small-time Chinese sellers seeking access to foreign markets, DHgate is a blessing, said Qiu Ming. Until a few years back, Qiu used to work as a clerk at a foreign trade company in Shenzhen, Guangdong province, for a monthly salary of 2,000 yuan ($304).
In 2014, however, Qiu and three of his friends set up a light bulb business and, using DHgate, started selling them in overseas markets, mainly in the US.
Their lighting products hit pay dirt and enabled them to invest in high-tech liquid-cooled bulbs, for which they have applied for a patent. Their firm's annual sales revenue is over 10 million yuan.
DHgate CEO Wang takes pride in such success stories.
"The past decade has witnessed China's transition from a follower of offline trade globalization to a pioneer of cross-border e-commerce. Thanks to the Belt and Road Initiative, we've become a forerunner in the field.
"With the help of the internet and big data, SMEs can compete with big companies on an equal footing. In this digital era, the world is indeed flat," said Wang.
Agreed Zhao Ping, director of the international trade research department at the China Council for the Promotion of International Trade in Beijing.
"DHgate.com, like many other e-commerce platforms in China, is playing an active role in establishing better global business environment in the new digital era," she said.
Firms like DHgate could play a bigger role at the global level, she said. "Although many rules and regulations in this area need to be improved, at the global level, there is much room for Chinese e-commerce enterprises to take a lead. With support from the government and the international community, Chinese enterprises will be able to shape a better international business climate.
"With China constantly expanding its presence in the international e-commerce sector, SMEs can give full play to their role in getting involved in global governance."
Looking ahead, DHgate is confident of achieving double-digit growth rates in the years to come.
NEW INNOVATION AT 2021 FOR THE CRYPTO CURRENCY. BIG OPPORTUNITY. FREE DOWNLOAD and FREE COINS.
( π ) Pi is a new digital currency developed by Stanford PhDs, with over 15 million members worldwide. To claim your Pi, follow this link https://minepi.com/yildiztekin Download from your mobile phone and use username (yildiztekin) as your invitation code. Then mine from your mobile or desktop to collect Pi coin everyday.